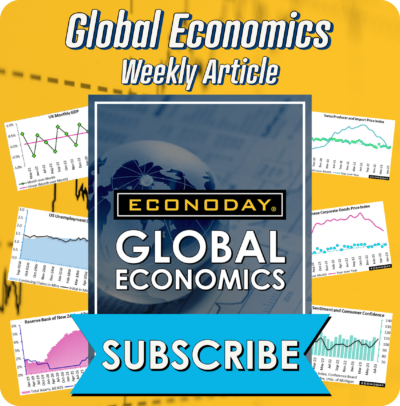 Global Economics Subscription
Global Economics is a weekly article sent via email on Friday Evenings.
ECONODAY'S Global Economics articles detail the results of each week's key economic events and offer consensus forecasts for what's ahead in the coming week.
Economic data from 15 leading economies—from Europe to Asia to North America—are discussed and compared in texts and graphs, including inflation, employment, GDP, demand, housing, production, and international trade. See how each week's economic results affect the outlook for each economy's monetary policy, in turn offering clues on the comparative direction for interest rates and fluctuations in currency values.
A special feature of the articles is ECONODAY's Relative Performance Index (RPI). This index is a unique tool for policymakers, economists, and investors to compare how individual economies are performing relative to consensus forecasts, whether they are underperforming, meeting expectations, or overperforming.
Subscribe to a 1-year subscription for $120 (48 issues) or 6-month subscription for $75 (24 issues) delivered to your inbox every Friday.
At checkout, please use the email address you would like the article sent to each week.